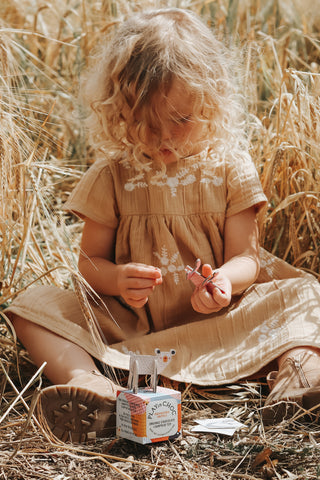 KiDS PARTY FAVOURS
FUN, ETHiCAL AND COLOURFUL – THE ALL-IN-ONE GIFT
PARTY ON
Allergy-free, Organic & Vegan Chocolate Party Gifts, Fillers & Favours
Discover fun & tasty chocolates that are vegan, dairy-free, nut-free & organic to gift to others or to use as party fillers & favours! Using just 3 plants, our chocolates are the perfect gift for kids to enjoy without worrying about allergens.
Keep kids entertained for hours with our 3D puzzle toy and fun animal facts card that comes with our gift sets. With different animal sets to choose from, kids' parties will be both educational and fun!
Read More
Allergy-free & organic chocolate sets for kids to enjoy
A healthier & more sustainable way to enjoy tasty chocolate

We use organic single original Peruvian chocolate that is sustainable and ethically sourced. That means we don't use child, slave or animal labour when sourcing our chocolate.

Our chocolate has ⅓ less sugar than other leading chocolate brands and has no refined sugar.

With 3 plants - cocoa, coconut and vanilla - our chocolates are naturally dairy-free, nut-free, gluten-free and allergen-free so you can enjoy our chocolates without any worries.
Good For Everyone
Kids of all ages adore our slot-together, recycled, sturdy and colourful card toys. 
Our delicious chocolate is vegan, school-safe and free from common allergens including dairy, gluten, soy and nuts. It's made from just three natural ingredients; cocoa beans, coconut and vanilla. 
Parents love our ethical stance; our packaging is recycled and plastic-free, we are Soil Association certified, and proud to be a slave-, child-, and animal-labour free company.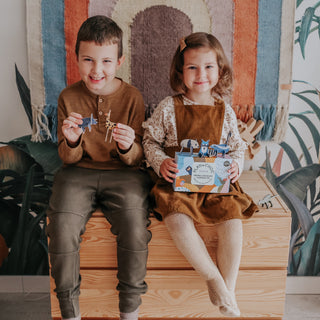 Party On
Why not use your boxes for a fun party activity? Open them up, make the animals – swap them if you want – and create your own wild creatures using the stencil.
PLAYin CHOC keeps the party going even after the guests have gone home. Use your boxes as a stand-alone eco party favour; they're all you need in one handy package. 
Alternatively, bundle them with complementary small gifts; a wooden pencil and recycled notebook make the perfect partners for stencilling fun. 
You might even theme your event around our sets; give the woodland creatures at forest-set festivities or dinosaur party favours for a prehistoric birthday. Endangered species suit a jungle theme, or choose rabbits for maximum cute appeal. 
PLAYin CHOC sets also make the perfect bring-to-school or end-of-term gifts; they're classroom-safe and a hit with parents. Don't forget to pop a few dark chocolate boxes in your basket for the teachers! 
Now, let's party! 
TOP TiPS FOR PLANNiNG THE PERFECT KiDS PARTY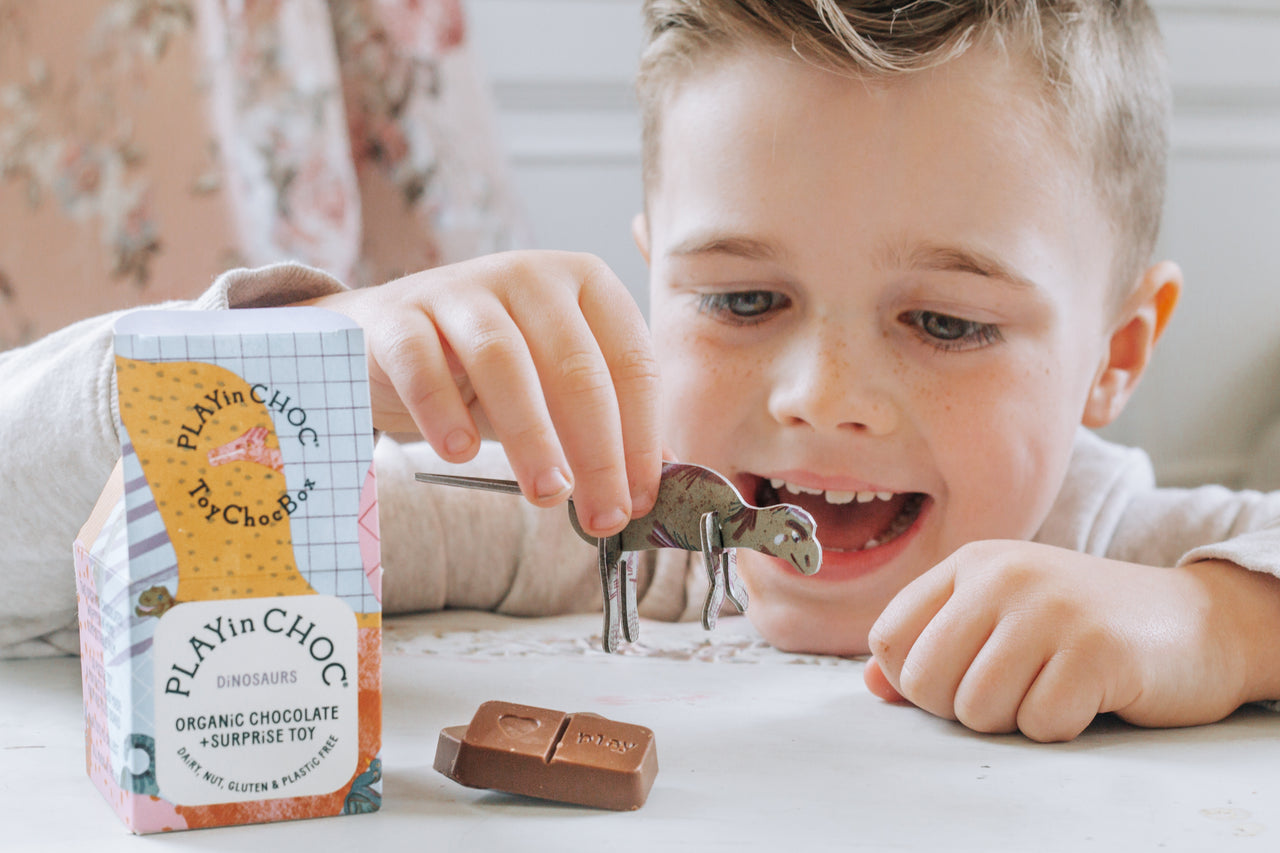 Dinosaur party favours
Not only are dinosaurs incredibly popular with children these days, but they're also a great way to introduce some educational learning in a fun environment which is exactly what we've done with our range of kids dinosaur party favours.
If you're looking for the perfect dinosaur themed favour for your child to share with their classroom friends, our 18 dinosaur gift set could be the ideal solution. You get 18 individual boxes which each come with:
Two pieces of our of signature delicious chocolate, individually wrapped in eco friendly, fully compostable wrappers
A fun toy dinosaur to be assembled which is also 100% recycled and recyclable and 18 different designs.
A fun facts educational card teaching them all about their toy dinosaur.
If you're looking for some dinosaur party favours for a smaller party, our Dinosaur ToyChoc Boxes could be perfect for you. Each comes with the two pieces of chocolate, the toy and the fun fact card just like our 18 set.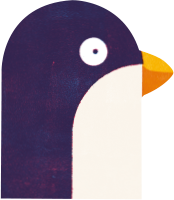 EXCiTEMENT OF PLAY + CHOCOLATE
Organic chocolates + 3D puzzle & fun facts card to play with, learn about and collect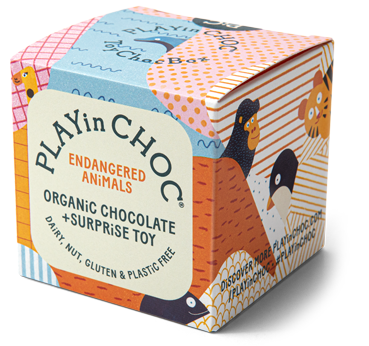 =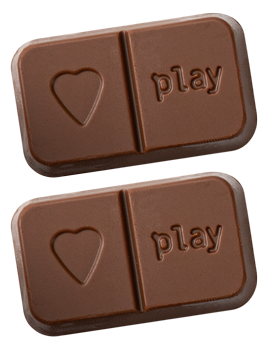 +

+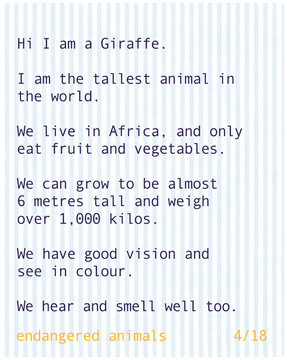 But don't just take our word for it, not only have we won lots of awards but we get so much positive feedback from others who love our brand and our party favour boxes!
"Boxing Clever! Cutest little party box with paper cut-out animal, fact card and delish vegan mini choc slab. Brilliant for any party bag!"
Angels & Urchins
"PLAYin CHOC make delightful, inventive sweet treats that look as beautiful as they taste! Organic, Allergen free & Sustainable"
"What delicious chocolate, fantastic sturdy puzzle-toys, and excellent information about the animals! Best party favour ever :)"  
Xanthe, London
"We buy these as little gifts for our forest school kindergarten. It's totally brilliant that they are plastic free, vegan and gluten free. They tick all the boxes AND come with a woodland based surprise; PERFECT!" 
Paula, Baildon 
"I was looking for a more eco-friendly party bag alternative than the cheap plastic stuff and this popped up. The kids – aged 7 – all loved them and it was great to have something so different."
Natalie, Coa, Northern Ireland
"Hit with the whole class! My daughter wanted to bring treats for her classmates for her Birthday and I chose Play in Choc. It was a massive hit with the whole class, beautifully presented and a lovely toy inside! None of this plasticky stuff and nut-free! What's not to like? Got some plain chocolate for the teachers, too!"
Lilia, Launceston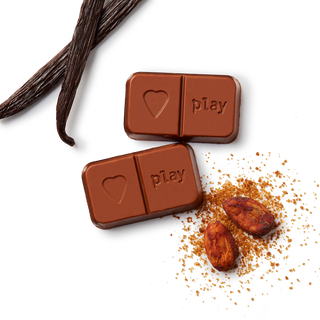 ...ORGANiC SiNGLE ORiGIN PERUVIAN CACAO (100% Criollo Bean)
...SUSTAiNABLY AND ETHiCALLY SOURCED (Child, Slave and Animal Labour Free)
...1/3 LESS SUGAR THAN OTHER LEADING CHOCOLATE BRANDS
...DAiRY, NUT, GLUTEN AND PLASTiC FREE (14 Allergen Free)
Join our mailing list to discover new products, events and special offers!
Sign up and save 10% on your first order!