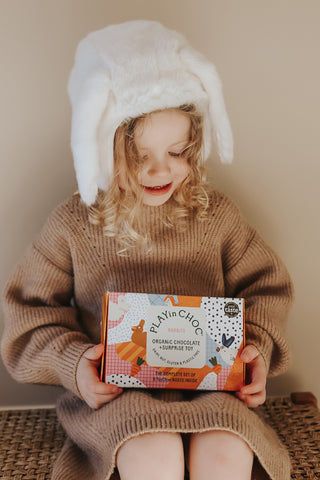 Vegan, Dairy-Free, Organic & Nut-Free Easter Chocolate & Gifts
Hop
Discover fun & tasty Easter chocolates that are vegan, dairy-free, nut-free & organic for both adults and kids. Gift these chocolates for Easter or use them in your Easter egg hunts for all to enjoy.
For adults: vegan & organic Easter chocolate gifts
Enjoy our JustChoc Boxes for Easter to either send to family and friends or simply to enjoy for yourself. Fill your Easter basket with our M.LK & dark JustChoc Boxes.
See our vegan, allergen-free, dairy-free, nut-free & organic Easter chocolate gifts below.
For kids: fun & tasty chocolates for Easter egg hunts
Hide our chocolates around your garden and watch the kids' excitement as they collect the ToyChoc Boxes, build the puzzle toys and learn fun facts about animals. You can also find our chocolates around the gardens at the Royal Horticultural Society during their big Easter egg hunt for kids to collect while on the trail. 
See our dairy-free, nut-free, allergen-free, vegan & organic Easter chocolates below. 
More Easter Chocolate Gifts To Explore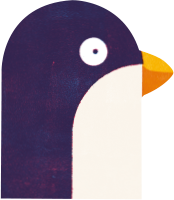 EXCiTEMENT OF PLAY + CHOCOLATE
Organic chocolates + 3D puzzle & fun facts card to play with, learn about and collect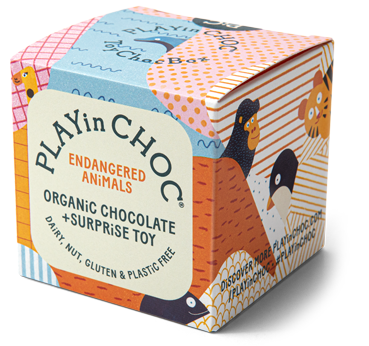 =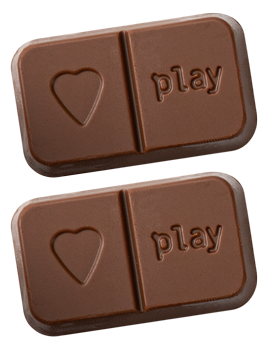 +

+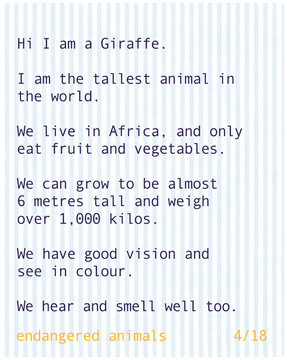 What we embrace: JOY + HEALTH + PLANET
These words are the very embodiment of PLAYin CHOC and what better time of year to see the JOY in our PLANET than Spring when everything's coming back to life? 
Our chocolate is 1/3 the sugar of alternatives with no refined sugar but with all the taste - so you can indulge in Easter chocolate guilt-free without your HEALTH going out the window! 
Our Easter RABBiTs range brings JOY to kids and adults alike, is mindful of your HEALTH and is 100% vegan, 14 allergen-free, and is a friend to the PLANET by being plastic-free, fully sustainable and environmentally responsible.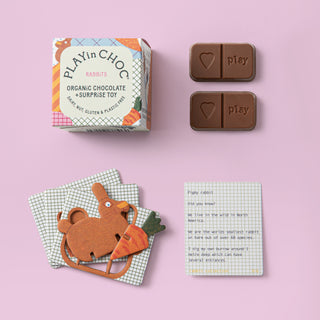 Bringing JOY to Easter for all
As nature bursts back to life there's so much JOY in this time of year, it's impossible not to smile... Especially with our chocolates which can be enjoyed by everyone since they're allergen-free, vegan & organic. 
At PLAYin CHOC at this time of year, we're overrun with RABBiTS! Did you know that when a rabbit is feeling happy and playful, it jumps into the air and this is called a binky? All our ToyChoc Boxes come with organic vegan chocolate as well as fun facts about these JOYful animals. 
"Each of the wholly recyclable packs includes a 3D rabbit puzzle, fun fact card and our fave bit - two delicious organic vegan chocolates" Little London
Keeping HEALTHY for Easter
We only use three plants, fairly traded Peruvian Cacao beans, Madagascan Bourbon Vanilla and vitamin rich coconut – that's it! 
All our chocolate is dairy-free, gluten-free, nut-free, and soy-free and contains no refined sugar – this means it's suitable for virtually everyone. As everything is made in our own SALSA (Safe and Local Supplier Approval) certified factory, we can promise there's no chance of allergen contamination. Our PLAYin CHOC founders are lactose intolerant so we understand just how important it is to find an ingredient label you can understand and trust. 
"PLAYin CHOC is a great way to treat your children without having to worry about nasty health effects of refined sugar or adding more harmful plastic into the world." MyBaba 
Looking after our PLANET during Easter
Everything we do here at PLAYin CHOC has the PLANET in mind, from the materials we bring into our factory to the packaging we send our products out in. Every last ingredient we use is certified by the Soil Association which means working with farmers who reduce pollution and water waste, use less energy and increase soil fertility. 
When our Easter RABBiTs & WOODLAND ANiMALS arrive at your door, they'll be packaged in sturdy recycled card and packaging. The wrappers that keep our chocolate deliciously tasty and fresh come in home compostable film and the 3D puzzle rabbits are made from 100% recycled board and are completely biodegradable as are the fun facts info card that accompanies them.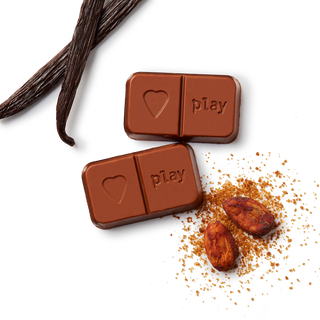 ...ORGANiC SiNGLE ORiGIN PERUVIAN CACAO (100% Criollo Bean)
...SUSTAiNABLY AND ETHiCALLY SOURCED (Child, Slave and Animal Labour Free)
...1/3 LESS SUGAR THAN OTHER LEADING CHOCOLATE BRANDS
...DAiRY, NUT, GLUTEN AND PLASTiC FREE (14 Allergen Free)
Join our mailing list to discover new products, events and special offers!
Sign up and save 10% on your first order!