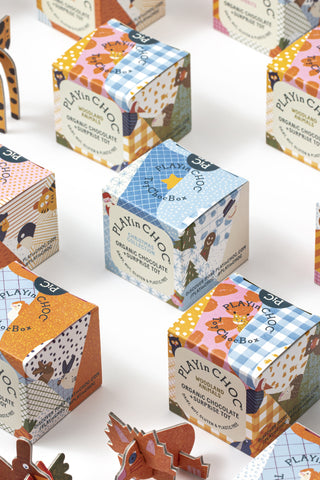 ABOUT
US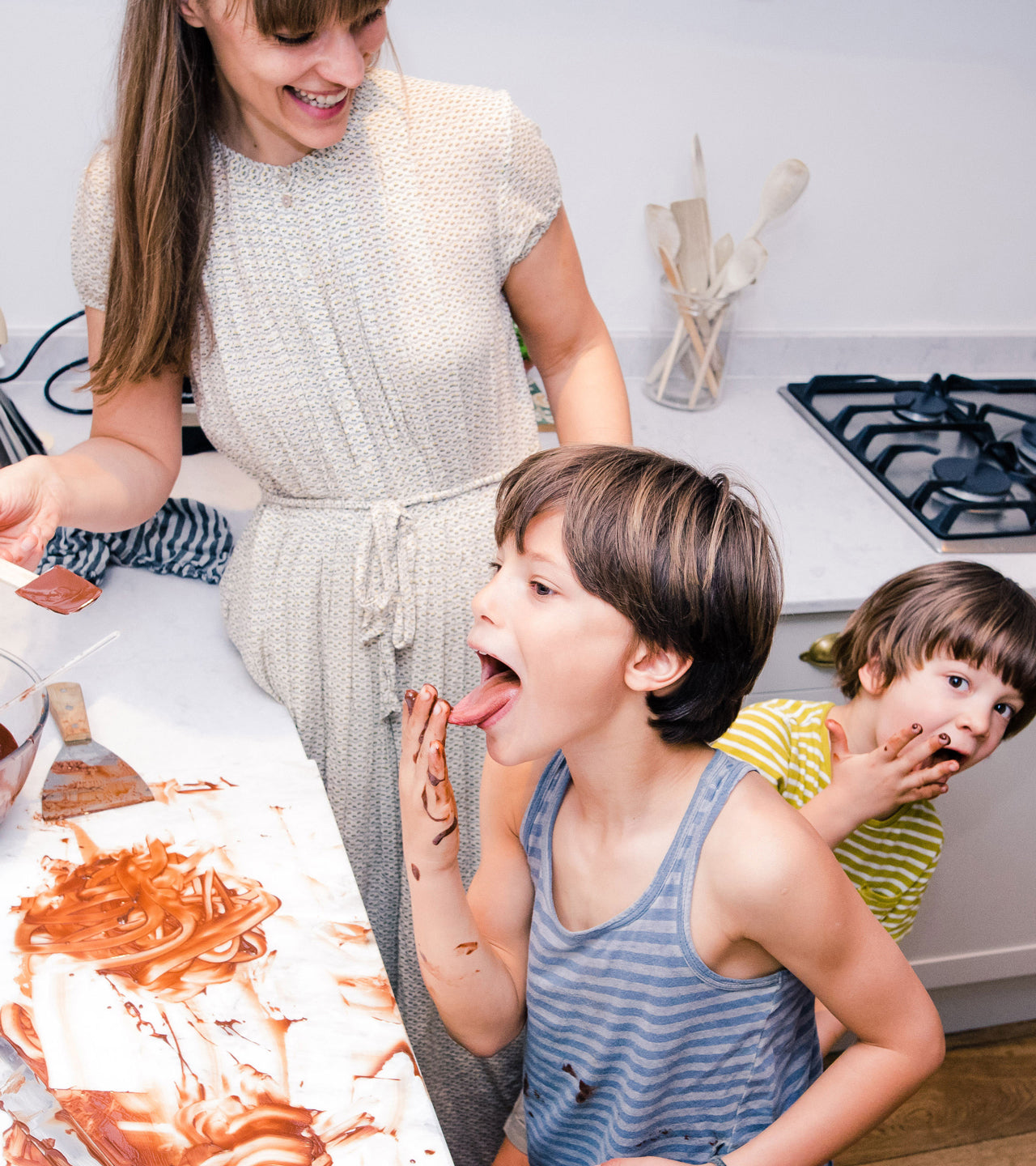 OUR STORY
I still remember the anticipation, excitement and joy I felt as a child when my parents would buy me a special treat – a chocolate with a small toy!
Now as a parent I still enjoy chocolate as much – if not more! – than ever, but have become more health conscious about what we as a family eat. I was determined that sweet does not have to mean unhealthy. My kids (being my kids…!) love chocolate, and while I have learnt about the benefits of cocoa I also know about the nasty health effects of refined sugar. To get the best of both worlds I started experimenting with chocolate recipes at home using only the highest quality organic ingredients, and NO refined sugars. Sebastian, my eldest, my husband Dominic and myself are lactose intolerant so my recipes also had to be dairy free.
It took a while and we had lots of fun taste testing, before I eventually developed a delicious chocolate recipe we all fell in love with. It so happens that it is vegan, organic and made out of just 3 organic plants: cocoa beans, coconut and vanilla.
They say the best things are the simplest, and I can only agree.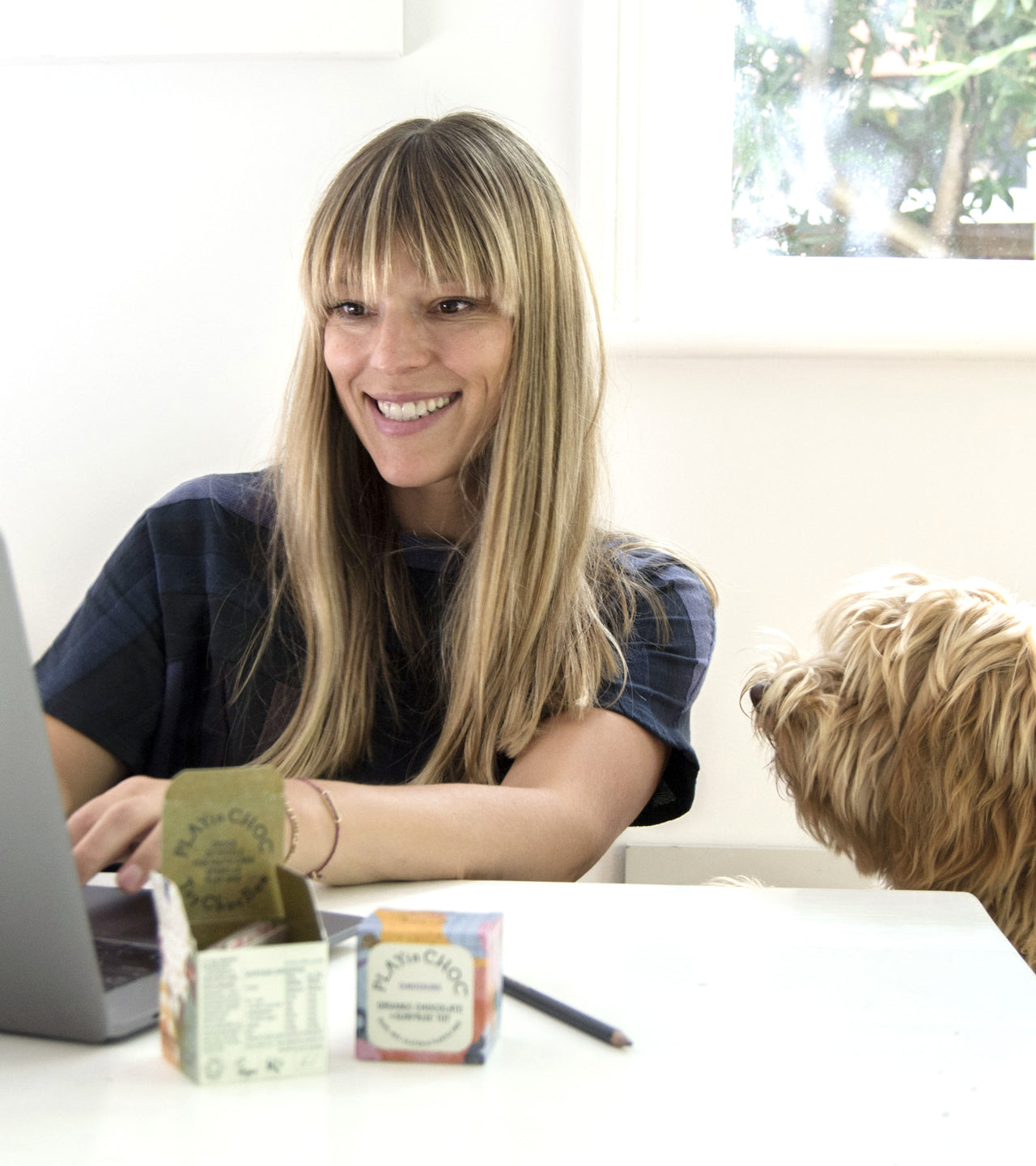 With a background working in design and teaching, after a Masters degree in Scenography at Central St Martins, I gave myself a challenge of designing a playful, fun, educational and eco conscious toy. 
With kids growing up so quickly I've been reflecting more on the world we will be leaving to them. I became more aware of the dangers to our planet from discarded plastic waste which ends up in our oceans, woods and environment. This has motivated me to design a series of fun, educational, self-assembled toys made entirely from 100% recycled, biodegradable card – including the packaging and chocolate wrapped in home compostable film. In this way I hope to excite children about our planet through play. 
Combining my love of chocolate and nature I came up with PLAYin CHOC.
When trying out my recipe with family and friends it turned out that the parents enjoyed it as much as their kids, so I decided to offer 'a grown-up version', the same delicious chocolate without the toy (sorry grown-ups – you get more chocs inside!) 
Hope you enjoy it as much as we do! 
Maya x
JOY + HEALTH + PLANET
THESE THREE WORDS ARE AT THE FOREFRONT OF OUR THINKING. HOW WE ENJOY LIFE AND WHAT WE CAN DO TO GET THE MOST OUT OF IT, WHAT WE PUT IN OUR BODIES AND HOW IT MAKES US FEEL, AND WHAT WE CAN DO TO PROTECT AND PRESERVE THIS PLACE WE IN HABIT AND SHARE WITH THE NATURAL WORLD.
For us JOY means enjoying the moment, the excitement that comes from learning, exploring and using imagination – allowing our kids to escape into a world only children can inhabit.
HEALTH means organic foods sustainably and fairly sourced. It means no refined sugars. And it means a delicious taste that makes us feel great.
Keeping our PLANET alive and thriving for our children means learning about the natural world and what we can do to protect and preserve it for future generations. For us this means using bio-degradable, recycled and recyclable packaging and educating our children about the harmful effects of plastic waste on the natural world.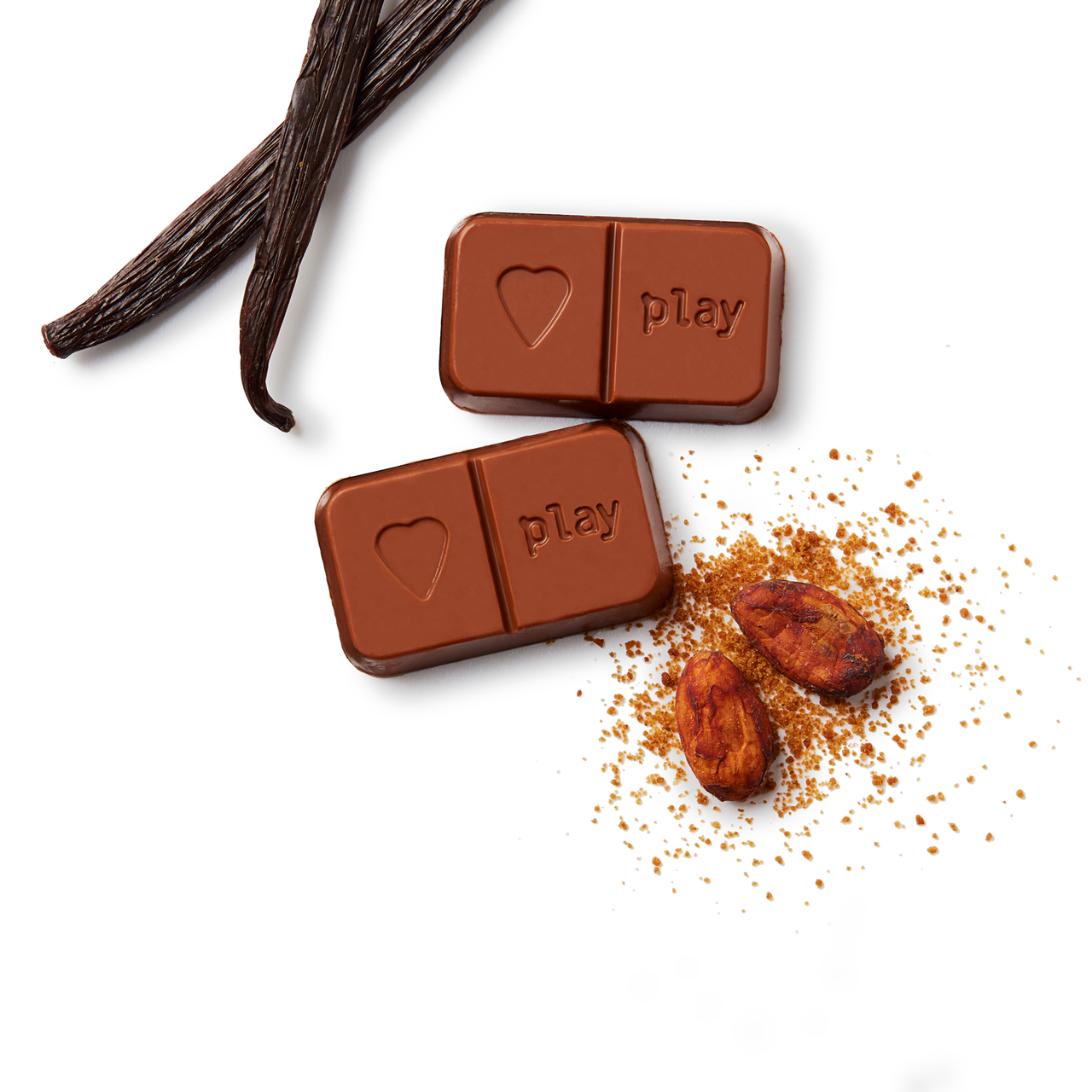 WE MAKE BEAN TO BAR CHOCOLATE
We source the finest fairly traded single origin Peruvian cacao beans grown on small family owned farms. They are then gently roasted in order to release the full flavours.
We only use the finest organic Madagascan bourbon vanilla and organic creamed coconut from Indonesia.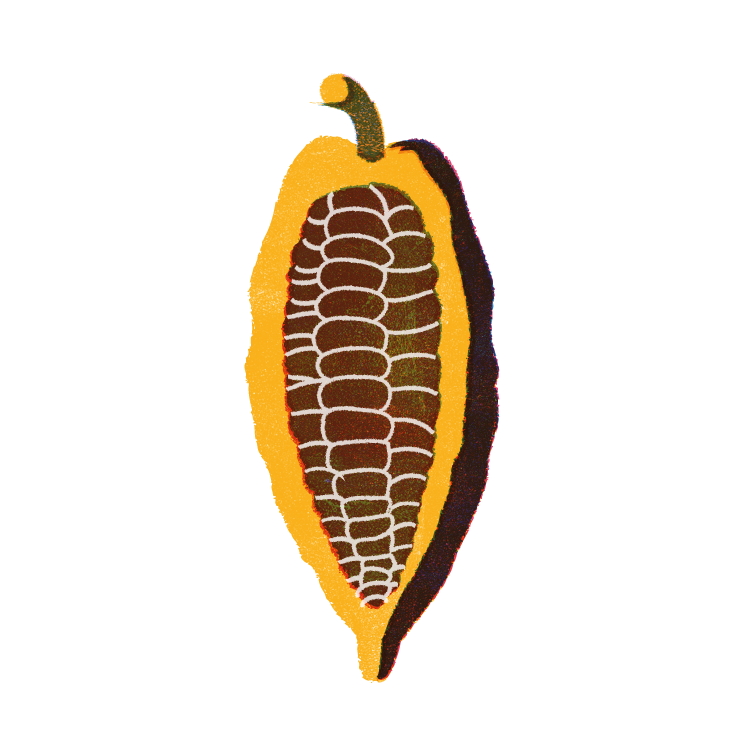 CACAO
From the cocoa tree comes the cocoa bean – and from the bean comes cacao nibs and cacao butter. Cacao is packed full of essential minerals such as calcium, zinc, iron, copper, potassium and magnesium. Cacao also contains naturally occurring mood enhancing properties as well as antioxidants called polyphenols which are similar to those contained in green tea and red wine.
COCONUT
From the coconut palm tree comes the coconut and from that we use creamed coconut and coconut sugar. Coconut contains lots of vitamins and minerals and is a delicious source of fiber. Coconut is a source of energy and has an accelerating effect on the metabolism. The coconut botanically is a drupe not a nut.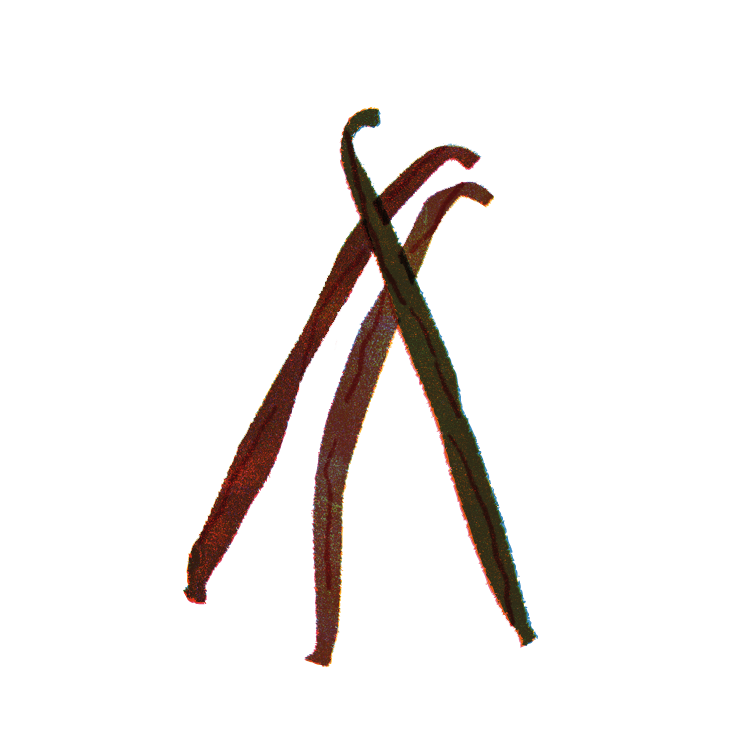 VANILLA
The vanilla vine is an orchid which is indigenous to South Eastern Mexico. Dating back to Cortez's conquest of the Aztec Kingdom in 1519, it is one of the most ancient flavours. Vanilla is an orchid which only lasts 24 hrs. Vanilla pods are ground up to make the vanilla powder we use.
QUALiTY + STORAGE
Our chocolate is free from common allergens. Free from gluten, soy, nuts, dairy, sesame. Our entire supply chain, factory and machinery does not handle common allergens. We use just three plants: Cacao, coconut, and vanilla. 
We want you to enjoy PLAYin CHOC as much as we have making it for you. Since we pack our finished products by hand we realise that very occasionally mistakes can happen. If you are not entirely satisfied with your PLAYin CHOC product please let us know as we would love to replace it. Please email us here.
We make and keep our chocolate in our temperature controlled factory where no direct sunlight can damage it – we want to get it to you in optimum condition. If our – or any chocolate – is stored in direct sunlight or experiences big drops in temperature between warm and cold, it will bloom. Chocolate bloom affects the appearance of the chocolate causing white discolouration on the surface as the ingredients have separated – which will affect taste and texture – but is still safe to eat.If you notice your chocolate has bloomed the moment you have purchased it, please return it to the shop you brought it from, and please let us know.
SUSTAINABILITY
We only use paper based recycled, recyclable, biodegradable and home compostable materials.
Our packaging and toys are made from FSC or PEFC sustainably sourced recycled and recyclable card and paper with carbon offset certificates.
Our chocolates are wrapped in home compostable film made from wood pulp and plant cellulose.
Our brown packaging boxes are also made with recycled and recyclable paper corrugate and we seal them with paper tape.
We also pack our products with a void filler made from maize starch to ensure they reach you in perfect condition.
We source everything from UK suppliers and make everything in the UK.
Join our mailing list to discover new products, events and special offers!
Sign up and save 10% on your first order!