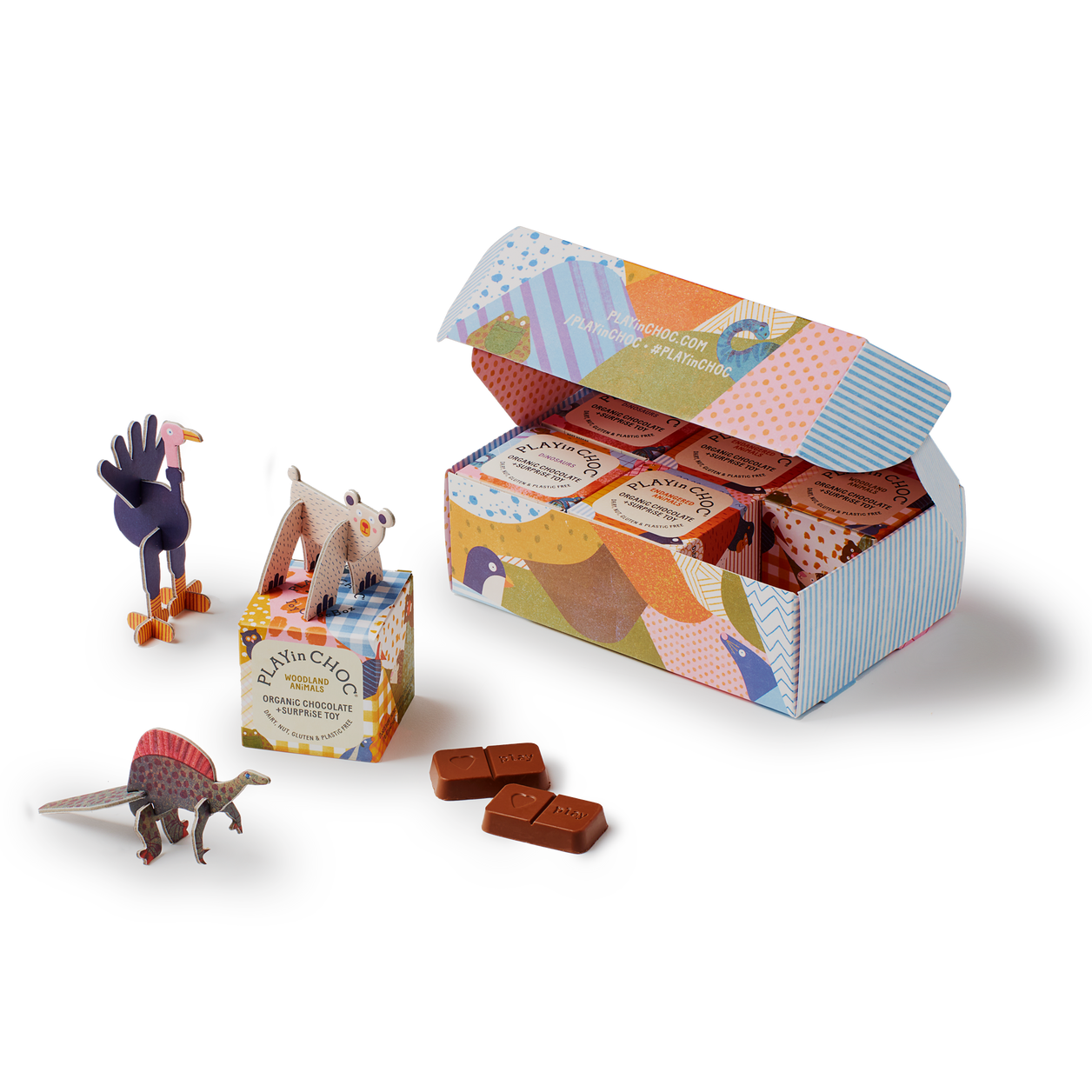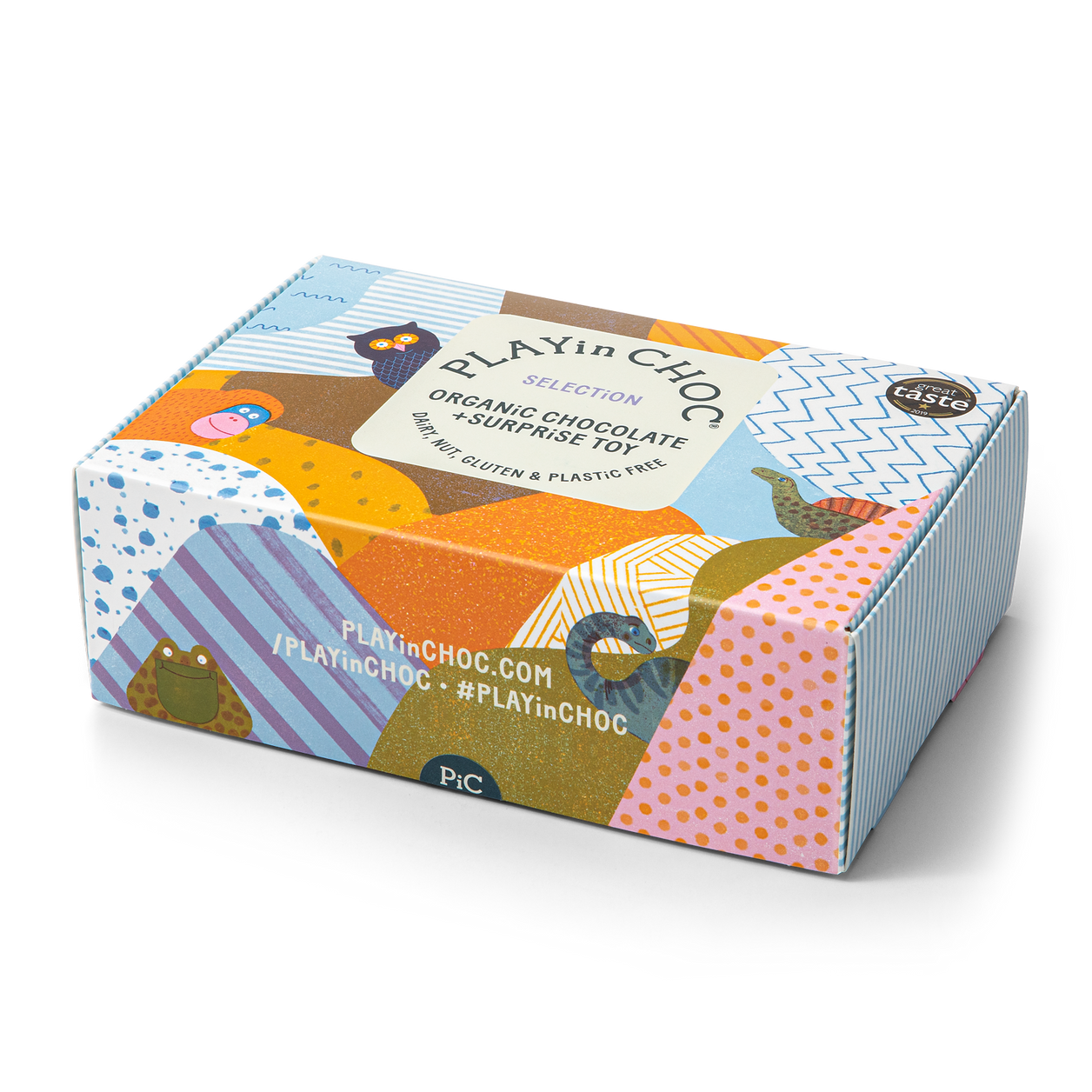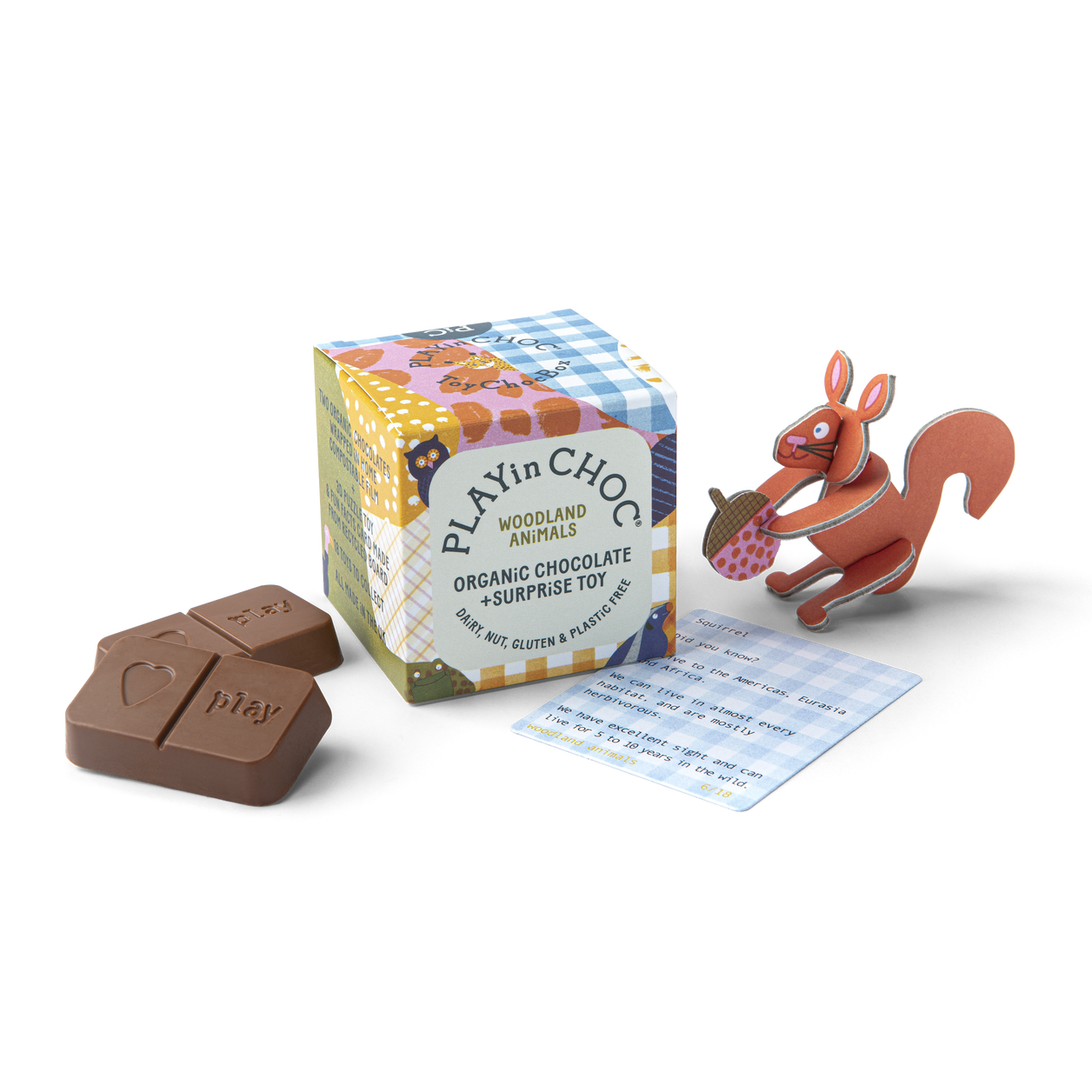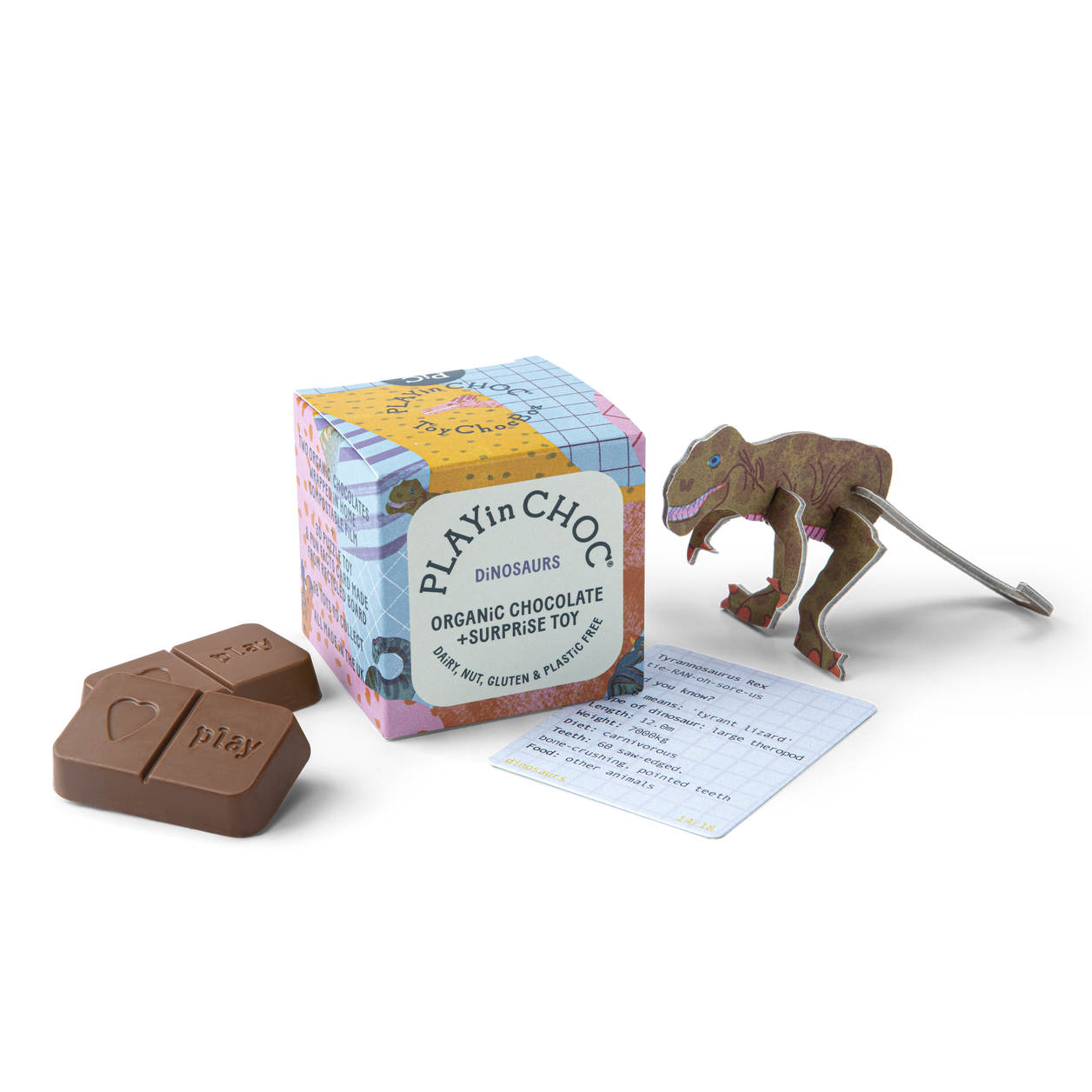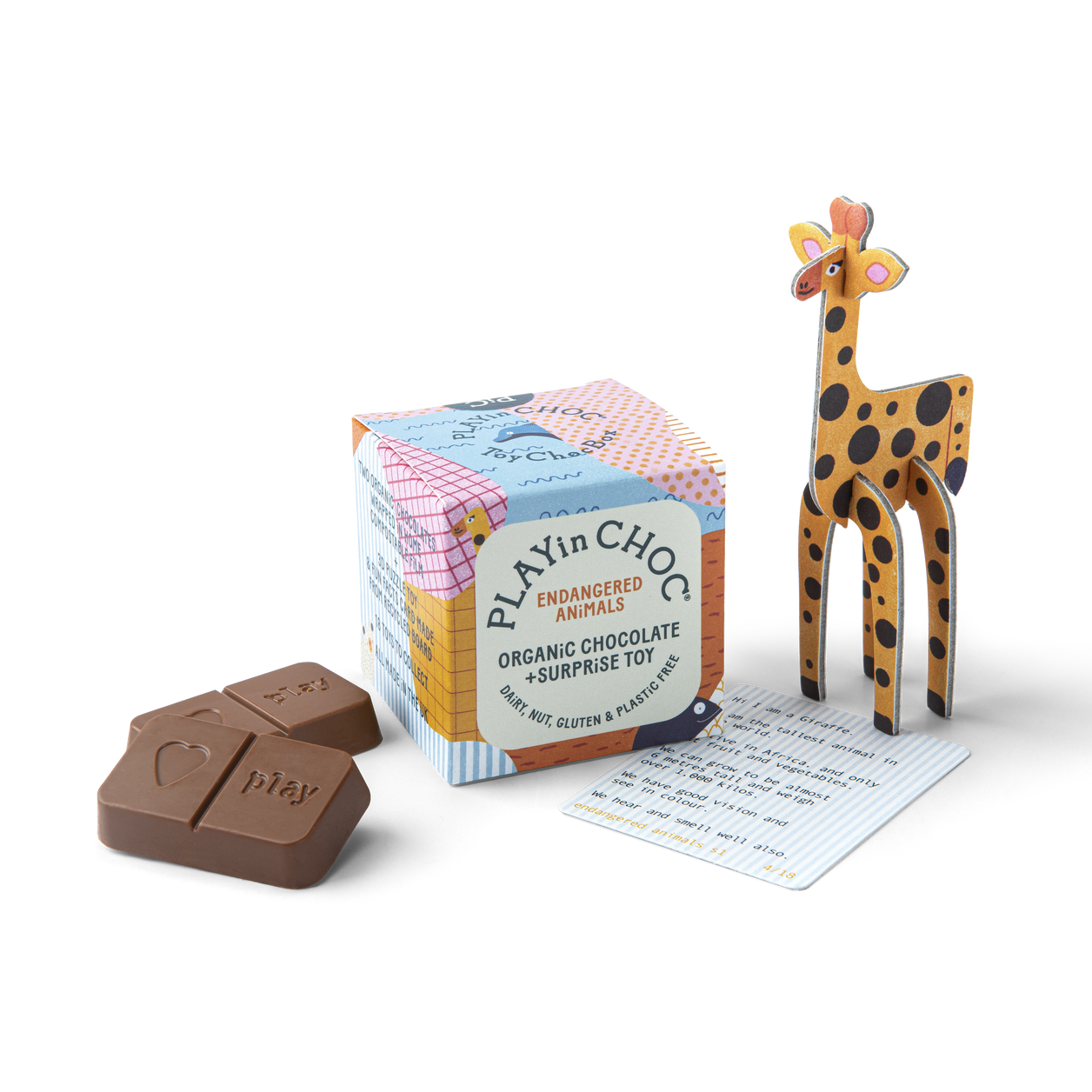 ToyChoc Box®
6 BOX SELECTiON
GiFT SET
Gift set of 6 ToyChoc Boxes
Gift set of six ToyChoc Boxes®.
Each PLAYin CHOC® ToyChoc Box® contains:
2x10g organic chocolates + one 3D puzzle toy and fun facts card
Explore the wide, wild world of PLAYin CHOC®. A taster of six different ToyChoc Boxes®: two rare Endangered Animals, two gentle Woodland Animals and two from our rawr-some Dinosaurs collection in one boxed set.
–  
100% organic
Dairy, Nut, Gluten Soy & Plastic FREE
Gift set of six ToyChoc Boxes®.
Each PLAYin CHOC® ToyChoc Box® contains:
2x10g organic chocolates + one 3D puzzle toy and fun facts card
Explore the wide, wild world of PLAYin CHOC®. A taster of six different ToyChoc Boxes®: two rare Endangered Animals, two gentle Woodland Animals and two from our rawr-some Dinosaurs collection in one boxed set.
–  
100% organic
Dairy, Nut, Gluten Soy & Plastic FREE
Weight: 6 x (2 x 10g chocolate + toy)
Absolutely gorgeous and delicious.
Fabulous Easter gift. Chocolates divine, and accompanying animals educational. Children loved these and had hours of fun. Would highly recommend. Will purchase more in the future. Thank you.
New family favourite chocolate
My son absolutely loves the toy choc boxes. The chocolate is lovely and the little 3D animals are a fun addition. We have been looking for a fun child friendly chocolate, that is allergen free for a while now. We are so happy to of found these. Definately a new family favourite.
Looks delicious
The Toy choc selection is a gift for my grandchildren when I see them. I have bought them one before & they loved making the toys & thought the chocolate was delicious. I'm sure they will love this one as much 😊 Thank you
Perfect gifts
Great little gifts, table presents or stocking fillers. The models are lovely; easy to assemble and sturdy. Bonus two chocolates. My nephews loved them. Will be buying more.
Perfection
It was extremely lovely presents for kids and super delicious treat for mommy as well. Absolutely love everything about the set: the package, the chocolate, the toys. Thank you for making our far away from Ukraine Christmas warmer. Now girls have friends for the endless play scenarios🤍
Join our mailing list to discover new products, events and special offers!
Sign up and save 10% on your first order!